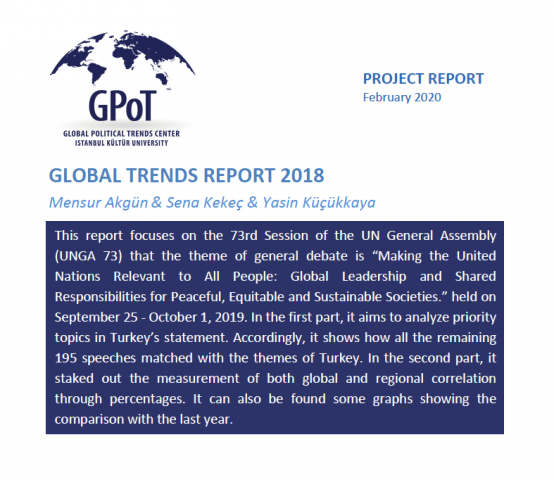 Project Report | Global Trends Report 2018
Mensur Akgün & Sena Kekeç & Yasin Küçükkaya — February 2020

This report focuses on the 73rd Session of the UN General Assembly (UNGA 73) that the theme of general debate is "Making the United Nations Relevant to All People: Global Leadership and Shared Responsibilities for Peaceful, Equitable and Sustainable Societies." held on September 25 - October 1, 2019. In the first part, it aims to analyze priority topics in Turkey's statement. Accordingly, it shows how all the remaining 195 speeches matched with the themes of Turkey. In the second part, it staked out the measurement of both global and regional correlation through percentages. It can also be found some graphs showing the comparison with the last year.
Introduction
This short report is a product of a research project we conducted together with our students from Istanbul Kultur University, Department of International Relations. The intention is to find out the amount of proportional correlation between the themes Turkey and the rest of the international community prioritized in the 73rd Session of the UN General Assembly.
To achieve that, we first determined the priority topics in President Recep Tayyip Erdogan's statement to the General Assembly by measuring their lengths and then monitored all the remaining 195 speeches to match with the themes in his statement. In the following pages and graphs, we tried to show both global and regional correlation through percentages.
The regions are covered through their organizational patterns as political constructs rather than geographies and African Union (AU), Arab League, European Union (EU), Gulf Cooperation Council (GCC), North Atlantic Treaty Organization (NATO), Organisation of Islamic Cooperation (OIC), Shanghai Cooperation Organisation (SCO) are considered as representing their respective denominations.
The report is divided into two parts, followed by a brief conclusion. In the first part, we staked out the priority topics; and the second covers global and regional emphasis on the same topics. Despite all our efforts, the timesheets we produced may not be immune from human error and possible clustering mistakes. Thus the findings of this report should be taken as indicators rather than conclusive evidence.
We are glad to work together with a very good and productive team of students throughout our project. We would like to thank Aslı Kaya, Buğra Namlı, Fahima Yusuf, İdil Erdoğan, Nawres Samir Alghali, Serkan Coşkun for their contribution in monitoring the time devoted to each single issue by each participant of the UN General Assembly. We are also grateful for the generous support provided by Istanbul Kultur University's central administration most among them to the Board of Trustee Dr. Bahar Akıngüç Ünver, Rector of IKU Prof. Dr. Erhan Güzel and Vice Rector Prof. Dr. Nihal Sarıer.

You can reach the full report here.