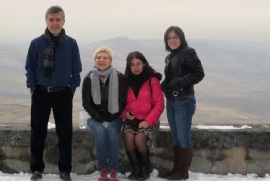 Program in Dialogue-Building between Turkey and Armenia
The project aimed to build a balanced, strong and socially relevant Turkey and Armenia bond.
The goal of the project is to deepen popular commitment for accord between Turkey and Armenia by expanding the quality, reach, and diversity of balanced, socially relevant commercial media content on common cultural, economic and political issues. The project achieves its goals through the following three objectives: increasing the production of multi-sourced media content; increasing information collection and dissemination of media content; and developing opportunities for emerging media professionals.
The four main activities of this project consist of
an exchange of six Turkish and Armenian film students, who are making short documentaries about Armenia and Turkey, respectively;
a bus reporting tour for Turkish and Armenian journalists in eastern Turkey, Georgia and Armenia that took place in May 2011;
various exchanges between print and television journalists from both countries;
the production of over a dozen television talk shows ("Gamurç/Köprü" broadcast on IMC TV in Turkey and "Yekragund" on Yerkir TV in Armenia) focusing on issues in Armenia-Turkey relations.
Partners/Sponsors:
Internews Network (California, USA)
Internews Armenia (Yerevan, Armenia)
Yerevan Press Club (Yerevan, Armenia)
CAM Film (Istanbul, Turkey)
United States Department of State Bureau for Democracy, Rights and Labor (DRL)
Dates: September 1, 2010 – December 31, 2011

Breaking the Ice: The Role of Civil Society and Media in Turkey-Armenia Relations by Susae Elanchenny & Narod Maraşlıyan evaluates the role of civil society organizations in advancing the normalization process between Turkey and Armenia over the past decade and presents the writings and reflections of the dozens of Turkish and Armenian journalists and students who participated in the project. 
 
Türkiye ile Ermenistan Arasında Diyalog Oluşturma Programı
Projenin amacı; ortak kültürel, ekonomik ve siyasi konu başlıklarında dengeli, sosyal açıdan ilgili ticari medya içeriğinin kalitesini ve çeşitliliğini artırarak Türkiye ile Ermenistan arasındaki uyumun konusundaki popüler bağlılığı derinleştirmektir. Proje, hedeflerine şu üç amaç ile ulaşmaktadır: Çok kaynaklı medya içeriğinin üretimini artırmak; bilgi toplama ve medya içeriğinin yayılması ve gelişmekte olan medya profesyonelleri için fırsatlar geliştirmek.
Bu projenin dört ana faaliyeti aşağıdaki maddelerden oluşur: 
Ermenistan ve Türkiye hakkında kısa belgeseller çeken altı Türk ve Ermeni öğrencisinin değişimi
Mayıs 2011'de gerçekleşen Türkiye'nin doğusunda, Gürcistan ve Ermenistan'da yaşayan Türk ve Ermeni gazeteciler için otobüsle haber turu
Her iki ülkeden gelen basın ve televizyon gazetecileri arasındaki diyalogu geliştirme
Ermenistan-Türkiye ilişkilerine odaklanan bir düzineden fazla televizyon konuşması (Türkiye'de IMC TV'de yayınlanan "Gamurç / Köprü" ve Ermenistan'daki Yerkir TV'de "Yekragund")
Ortaklar/Sponsorlar:
Internews Ağı (Kaliforniya, ABD)
Internews Ermenistan (Erivan, Ermenistan)
Erivan Basın Kulübü (Erivan, Ermenistan)
CAM Filmi (İstanbul, Türkiye)
ABD Dışişleri Bakanlığı Demokrasi, Haklar ve Çalışma Bürosu (DRL)
Tarihler: 1 Eylül 2010 – 31 Aralık 2011
Susae Elanchenny ve Narod Maraşlıyan'ın yazmış olduğu Breaking the Ice: The Role of Civil Society and Media in Turkey-Armenia Relations, son on yılda Türkiye ile Ermenistan arasındaki normalleşme sürecinin ilerlemesinde sivil toplum kuruluşlarının rolünü değerlendirmekte ve projeye katılan onlarca Türk ve Ermeni gazeteci ve öğrencinin yazı ve düşüncelerini sunmaktadır.